← Back
Black Trans Women Bundle (Call For Submissions)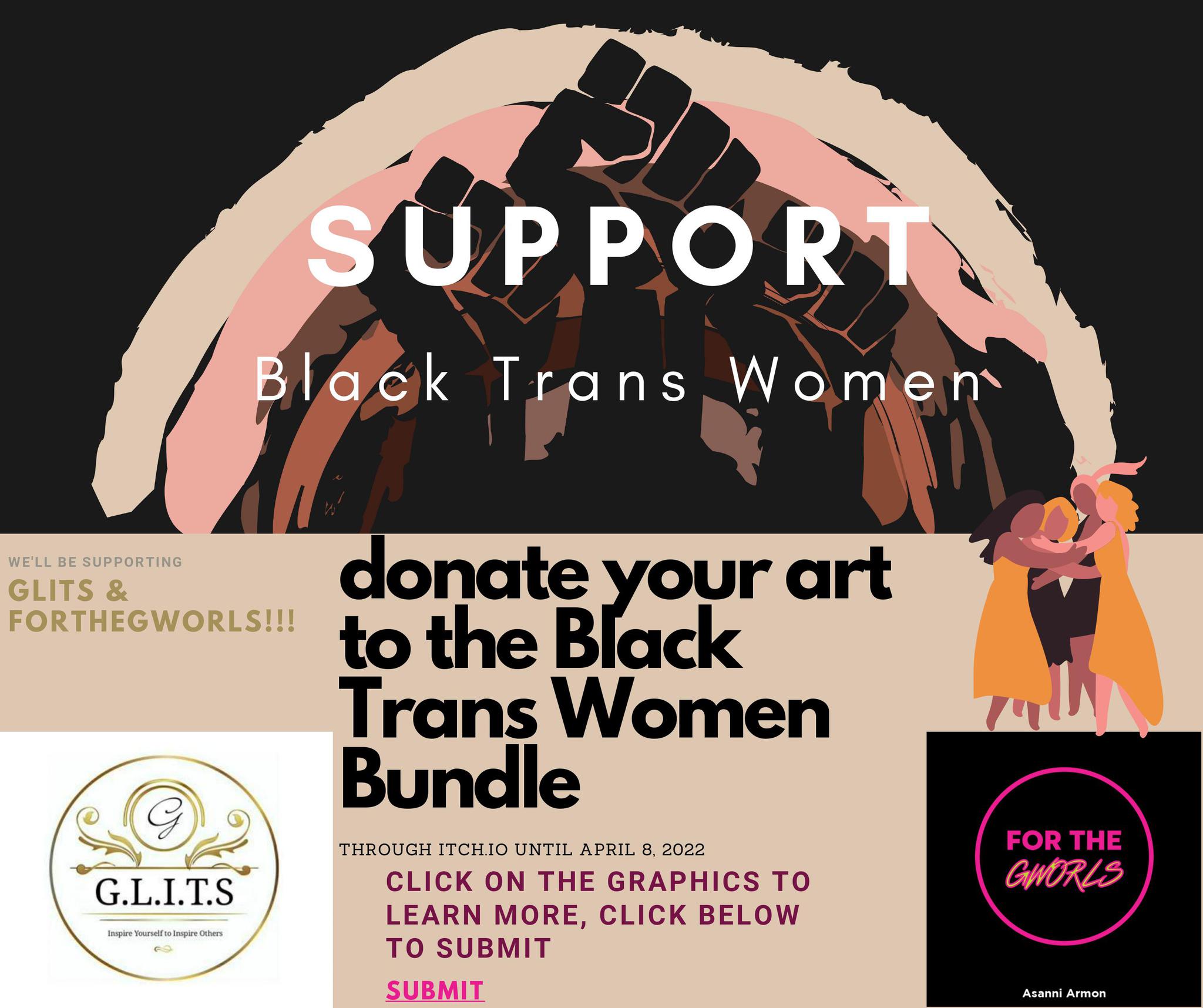 graphic with Support Black Trans Women against a banner of black fists raised in the air with various shades of brown behind them. There are three graphics, one of black women hugging each other. Another is the GLITS symbol in gold royal print and the last is the Gor the Gworls logo in neon pink against a black background, beneath the For the Gworls sign is the name Asanni Armen. Words around the poster include: We'll be supporting GLITS and For the GWORLS!!! Donate your art to the Black Trans Women Bundle through itch.io until april 8, 2022. Click on the graphics to learn more, click below to submit. The link leads to Google form submission.
​We are asking for submissions for the Black Trans Women Bundle through itch.io. The call for art includes (but is not limited to): music, plays, games, essays, poems, digital art, recipes, and zines. More information on how to submit, how to spread the word, and how to create an itch.io page is at the end of this post.
Black trans women are most vulnerable community due to lack of resources, violence, and transmisgynoir*.
Many gofundmes and asks for assistance go unfulfilled for black trans women, though counterparts often receive funding in a shorter amount of time. Though this bundle can feel like a drop of water in the ocean it is a small start. "Direct action creates the most impact" and if you are looking for more consistent ways to continually support Black trans women you can do so by visiting: Pay Black Trans Women​, Black Trans Funds​, Pay Black Trans People​, Open Your Wallett, and Homeless Black Trans Women Fund.
*"Transmisogynoir is an attempt at better articulating the particular type of oppression that exists at the intersection between transphobia, misogyny, and anti-Black racism. It is a way of talking about the specific types of harassment, violence, and discrimination experienced by Black trans women and those associated with them." (Trans Language Primer​)
The goal of this bundle is to raise money for two organizations created by and supporting black trans women: GLITS and For the Gworls. Submissions are open until April 8th and the bundle will be live until the end of May 2022. Please share, donate, and submit as you are able.

RESOURCES
You can share social media graphics here: Social Media Template
You can learn how to create an itch.io page so you can submit your work here: Create an itch.io page
You can submit your work for the bundle here: Black Trans Women Bundle