← Back
black girls unto themselves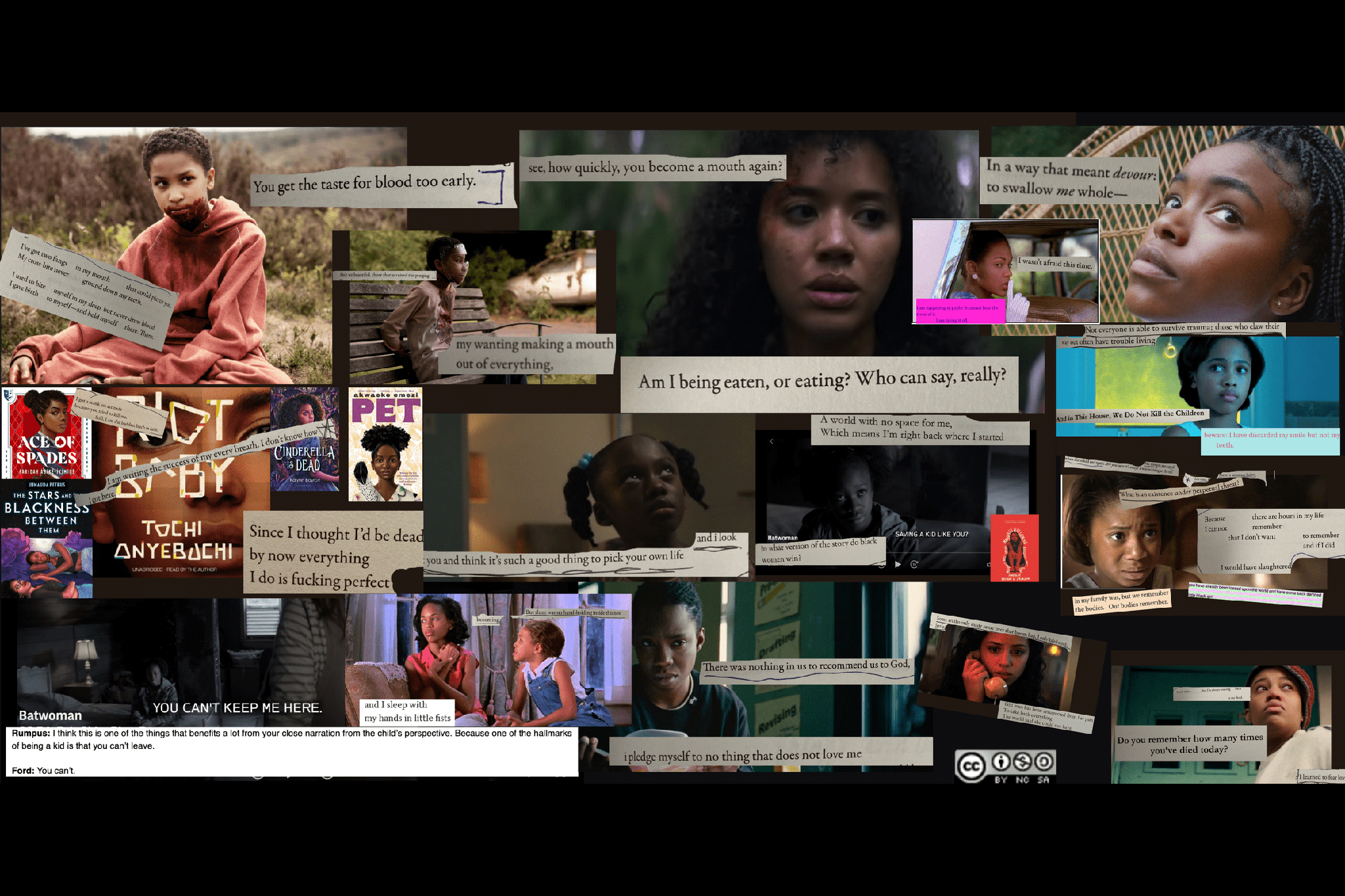 image descriptions for black girls unto themselves
1. picture of meagan good as cicily in eve's bayou. she is looking towards the viewer from the backseat of a car and puts her finger to her lips in a "remain silent" gesture. "I wasn't afraid this time." from Cottomouth by Tiana Clark. "I am happening in public & cannot bear the trope of it/I am taking it off." from Killing the Form by Camonghne Felix.
2. picture of a young medium-skinned black girl looking in fear to an adult offscreen from the movie woman thou art loosed. "My tongue was cut off whn she asked me again: "Are you okay?" I was waiting at the end" from Soil Horizon by Tiana Clark. "There is no mercy before/this one." from Conversations with Phillis Wheatley #1 by Tiana Clark. "What is an existence under perpetual threat?" from Meat by Camonghne Felix. "Because there are hours in my life/I cannot remmeber/that I don't want to remember/and if I did/I would have slaughtered" from Tim by Tiana Clark. "in my family was, but we remember the bodies. Our bodies remember." from Rememory by Roya Marsh. "you have already been loosed upon the world and have come back damned/little girl" from Child, Thou Art Loosed by A.Tony Jerome.
3. picture of melanie, a young light-skinned black girl, from the girl with all the gifts, with blood all over her mouth and down her orange sweatsuit as she looks untrusting to someone off screen. "You get the taste for blood too early." from Ways to Be Saved by Tiana Clark. "I've got two fangs in my mouth that could pierce you./My cross-bite never ground down my teeth.//I used to bite myself in my sleep, but never drew blood./I gave birth to myself—and held myself there. There." from Cottonmouth by Tiana Clark.
4. Picture of cicily and eve in eve's bayoun. Cicily is sitting on a loveseat and is looking off towards the window, ignoring eve, and holds her wrist with her other hand. eve, a younger light-skinned black girl, is in the same loveseat and is visibly crying while trying to get cicily to talk to her. "But there was no hand-holding inside this new becoming. from Root Song for Daughter by Nina Angela Mercer. "and I sleep with/my hands in little fists" from The Book of Genesis by Morgan Parker.
5. A screenshot of Ryan Wilder, a dark-skinned girl, as a child, looking up to a white woman with the captions from the white woman saying: saving a kid like you?. A picture of Tiffany D. Jackson's Monday's Not Coming, a cover with a young black teenage girl sitting with her hands over her bended knees, looking at the reader quietly on a bright red cover. "A world with no space for me,/Which means I'm right back where I started" from #Feminism by Crystal Valentine. "in wht version of the story do black/women win?" from Supremacy by Ariana Brown.
6. Picture of a young medium-skinned black girl, playing a young Rowena Price, in Perfect Stranger. She is looking to an adult offscreen. She is quiet and wearing a white undershirt. There is a bluish-green filter over her as she stands in the bathroom with a dirty window behind her. "Not everyone is able to survive trauma; those who claw their way out often have trouble living" from Carnival Fire of '63 by Whitney Greenway. "And in This House, We Do Not Kill Children" a title from Crystal Valentine. "beware: I have discarded my smile but not my/teeth." from Incantation of the First Order by Rita Dove.
7. Picture of jasmin savoy, a light skinned young person, as a young taissa from the show Yellowjackets. she is in the forest and has blood smeared near the top corner of her eye as she looks worriedly towards someone off screen. "see, how quickly, you become a mouth again?" from Patriarchy by Vanessa Marco.
8. Picture of Deena from the fear street trilogy. she is a young light-skinned teenager looking scared as she listens to someone on the other side of the landline phone she is holding. "Some truths only made sense over that boom bap. I only killed myself a little." from Root Song for Daughter by Nina Angela Mercer. "Girl who has been resurrected from her pain/To take back everything/The worl said she could not have" from Who Did You Bury by Crystal Valentine.
9. a picture of madison curry, a young black girl, playing a young adelaide in Us. with her hair in pigtails as she looks up at an adult talking to her offscreen. she is playing with something in a therapist's office and she looks at the adult without emotion. "Am I being eaten, or eating? Who can say, really?" from Cottonmouth by Tiana Clark. "and i look at you and think it's such a good thing to pick your own life" from Love on Flatbush Avenue by Angel Nafis.
10. Picture of Melanie from girl with all the gifts, sitting on a bench with cuffs holding her small wrists behind hr back. she has a plastic face mask that only allows her eyes to feel the air and she wears a t-shirt with lots of blood dried on the front. "Ain't we beautiful, those that survived the purging" from If 2017 Were A Poem by Mahogany L. Browne.
11. Picture of eve, a young light skinned black girl, from eve's bayou on the ground, screaming to someone in fear off screen. the picture is in black and white. "…the ghost of history lies down beside me,/rolls over, pins my beneath a heavy arm." by Natasha Tretheway. "Don't you know us black folk make habit out of resurrection?" by Crystal Valentine. "the celebration of 'i see you'. welcome to my memory for another day. let the house of our bodies be grateful, for our sacrifices have not killed us yet." from The Etymology of CHUUCH! by E'Mon Lauren.
12. A Picture of Laura, a light skinned stud from Pariah, looking over her shoulder with tears in her eyes. She stands in front of her mother's closed green front door. "I can't wait—Yes, I'm always looking back/at my dead." from After Orpheus by Tiana Clark. "Do you remember how many times you've died today?" by Crystal Valentine. "I learned to fear love" from Built For Disaster by Mahogany L. Browne.
13. a picture of Alike, a dark skinned stud from Pariah, looking confused and hurt at her teacher offscreen. She hols a notebook while she has her lunch tray in front of her. "There was nothing in us to recommend us to God." from Conversation with Phillis Whatley #14 by Tiana Clark. "i pledge myself to no thing that does not love me" from Creation Story after Safia Elhillo by nonae.
14. A picture of the cover of Ace of Spades by Faridah Àbíké-Íyímídé where a dark-skinned black girl with her hair in cornrows wrapped in a bun, looks to the reader over a background of a playing card. Picture of the cover of The Stars and the Blackness Between Them by Junauda Petrus where two black girls are lying down and look at the reader as if the reader interrupted their conversation. They are on a purple pink ground with a sky full of stars behind them. A picture of the cover of Riot Baby by Tochi Onyebuchi which is a zoomed in picture of the face of a young black girl looks at the reader with an unflinching gaze. A picture of the cover of Cinderella is Dead by Kalynn Bayron which is a black girl with lots of hair wearing a blue ballgrown looking over her shoulder at the reader defiantly as woods surround her. A cover of the picture of Pet by Akwaeke Emezi that is a young dark skinned black girl with her hair pulled into a high ponytail. She holds a black and white feather and looks at the reader. "I got a stank ass attitude/because you tried to kill me/Still, I am the baddest bitch in here." from Some girls survive their sorcery alone by Thiahera Nurse. "I am writing the success of my every breath. I don't know how I got here." from Built For Disaster by Mahogany L. Browne. "Since I thought I'd be dead/by now everything/I do is fucking perfect" from Magical Negro #217: Diana Ross Finishing a Rib in Alabama, 1990s by Morgan Parker.
15. A picture of Selah, a young teenager with braids, from Selah and the Spades sitting in a wicker type chair as she glances upwards towards the sky or to someone talking to her. "In a way that meant 'devour':/to swallow 'me' whole—" from Cottonmouth by Tiana Clark.
16. A screenshot from Batwoman of Ryan Wilder, a young black girl, talking defiantly to white woman while she is trapped in a dark and gloomy attic room. The caption reads You can't keep me here. A screenshot from an interview between THe Rumpus and Ashley Ford. The Rumpus states: I think this is one of the things that benefits a lot from your close narration from the child's perspective. Because one of the hallmarks of being a kid is that you can't leave. Ashley Ford responds, You can't.

black girls unto themselves by A.Tony Jerome is licensed under a Creative Commons Attribution-NonCommercial-ShareAlike 4.0 International License.